Sidebar
PAC F6C Invisible Dog Fence Kit (Up to 20 acres)
PAC Invisible Dog Fence Features
* Suitable for medium to large size stubborn dogs weights up to 100kg
* Quality European made
* 4 steps to containing your pet
* Collar is both
waterproof (IPX 7)
and rechargeable
* 4 preset output levels of stimulation
* Capacity to cover up to 20 acres with extra wire purchase.
* 1 Year Warranty
Download PAC Invisible Dog Fence Manual From here.
Brand

SKU:

95-PAC-011
Kit Includes:
100 metres thicker gauge wire and 25 training flags
PAC Standard FC4 Transmitter (with battery backup option - 2x 9V alkaline battery required)
12V Power adapter
F6C receiver collar
1 pair of long and short probes for long and short coat dogs
Instruction Manual
PAC Invisible Fencing for Dogs :
4 steps to containing your pet
Suitable for medium to large size stubborn dogs up to 100kg
Both waterproof (IPX 7) and rechargeable receiver collar
Warning tone & 4 preset levels of stimulation
Capacity to cover up to 5 acres with DogMaster thick gauge wire
Additional collars available for more than 1 dog
Lexan plastic collars for superior durability
Battery backup protection
Adjustable fencing boundary width (activate zone)
Digital Signal Processing for complete immunity to outside radio interference
Quality, Quality, Quality Made in Europe
1 Year Warranty
Extra 100 metres of 1.5mm gauge DMT wire kit can be purchased from here.
Extra 200 metres of 1.5mm gauge DMT wire kit can be purchased from here.
Extra PAC fence F6C collar can be purchased from here.
Do you need to invisibly contain your escaping dogs within a fixed area around your property? PAC invisible dog fence is the ideal solution. This system is practically infallible and has the added advantage of being extremely flexible, and hidden.
The PAC invisible dog fence is ideal where you wish to contain one or more escaping dogs without using ugly and obtrusive containment fencing. Each escaping dog that needs to be contained wears an active electronic dog collar. This collar unit is designed to pick up a low strength radio signal when the dog is close to the invisible fence. The electric pet fence comprises a simple plastic covered loop-wire. The wire can be twisted to close the dog fence when running across a lawn and re-opened to protect designated areas such as swimming pools, flower beds etc. PAC dog containment system comes with 100 mtrs wire & 25 flags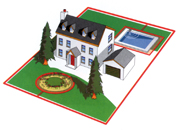 Automatic for Peace of Mind
PAC dog containment system gives you peace of mind that you will stop your dog escaping 24/7. Whenever a dog moves into the Active Zone (set by the user, normally to 1-2 metres from the wire), their collar receives a radio signal. The collar/receiver emits an audible beep or warning tone, if the dog challenges the warning tone and walks past the flags or into the next zone it will feel the first correction level, if it challenges and walks into the next zone it will feel the next level of correction. It has FOUR autorise levels of correction. The longer the dog is within the active zone; and the closer his proximity to the wire; the greater the intensity of the deterrent stimulation. Thus, the dog self-elects to approach the boundary; and if he runs at it, the system activates immediately.
Learn more about invisible dog fence:
How Does Invisible Dog Fence Work
Dog Containment Systems Buying Guide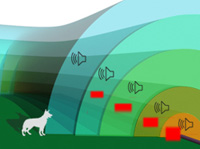 Electronic Control Unit (Transmitter)
The electronic control unit is installed indoor/undercover; it generates radio signals for the loop-wire. The signal strength determines the Active Zone width and can be adjusted and monitored at the unit. It has a timer controlled charger for the Collar Unit. The system comes with "inbuilt" battery backup, to power the unit should normal power supply fail. This feature incorporates 2 x 9 volt batteries within the transmitter housing.
Electronic Collar Unit (Receiver)
The collar unit is a rechargeable waterproof unit that contacts with the dog via two stainless steel probes. Each charge can give up to 2-4 weeks of operation (3 months in standby mode). An LED on the training collar indicates battery charge status. Since the collar recharges through the contact probes, the collars are the most waterproof on the market as there is no way for water, moisture or dust to get inside the unit.
Loop Wire
The loop wire comprises a low cost multi-cored PVC covered cable that can be purchased from us or your local electrical wholesaler. The two tails of this loop connect to the Control Unit. Surround and enclose all or part of your garden, paddock or estate, and give your dog freedom to roam within it.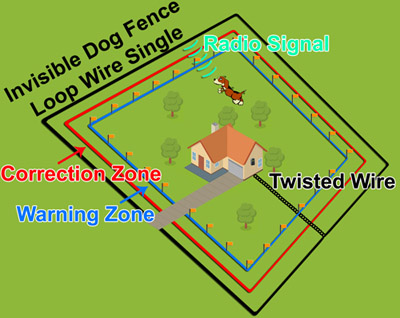 Area and Perimeter conversion table
Area in Acres
Perimeter Approx
Number of DMT 100 Metres Wire
(thicker gauge)
Total length of wire
1
254 metres
3
300 metres
2
360 metres
4
400 metres
2.5
402 metres
5
500 metres
3
441 metres
5
500 metres
4
509 metres
6
600 metres
5
569 metres
6
600 metres
6
623 metres
7
700 metres
7
673 metres
8
800 metres
8
720 metres
8
800 metres
9
763 metres
8
800 metres
10
805 metres
9
900 metres
11
844 metres
9
900 metres
12
881 metres
10
1000 metres
13
917 metres
10
1000 metres
14
952 metres
10
1000 metres
15
986 metres
11
1100 metres
16
1018 metres
11
1100 metres
17
1049 metres
11
1100 metres
18
1080 metres
12
1200 metres
19
1109 metres
12
1200 metres
20
1138 metres
12
1200 metres
*Conditions apply. Please refer to our Terms section for further information.