Sidebar
Garmin T5 Mini Armoured GPS Dog Tracking Collar
Features:
* Suits small working dogs and hunting dogs from 7kg * 58cm long range antenna included * Heat shrink on both GPS & radio antennas for better protection * Rechargeable collar with 4 hours fast charge *
Waterproof (1 ATM)
* Tone and remote operated beacon light * Rescue mode to save battery * On/Off power button * Top mount GPS and antenna for better reception * GPS and GLONASS satellite * LED battery/operation indicator * 1 year warranty
Download Garmin Alpha 100/T5 Mini Kit Manual From here.
Important !
Please
perform software and firmware update
for Garmin products before use.
Brand

SKU:

93-GAA-079

UPC:

753759124670
The Garmin T5 Mini GPS Collar is the extra tracking only collar that will work with Alpha 100 and Astro 430 dog tracking handheld. This small dog GPS tracking collar will suits dogs from 7kg in weight. The T5 mini collar has up to 6 km range. And it is fully waterproof IPX7 rating (up to 10 metres under water), rechargeable with 4 hours fast charge (up to 30 hours per full charge).
Armoured Kit includes
DogMasters

Industrial wrap installed

The 58cm long range antenna comes as standard
Its our recommendation based on our experience & expertise that you have all off your collars protected. We are the only retailer with an exclusive Garmin Protective Kit which consists of the following:
Heavy duty industrial strength Shrink Wrap to protect your cable & GPS receiver.

Professionally fitted to reduce aerials being torn out or snapped.

We care about your Gear – you should too.
High-Sensitivity GPS/GLONASS Receiver
The Garmin T5 mini collar has built in Standard GPS satellite receiver as well as the GLONASS satellite receiver. The GLONASS is the Russian Navigation Satellite System which has 24 orbital satellites. It is the second alternative navigational system in operation with GPS. It means this Garmin T5 mini collar is able to receive 24 more satellite signals than other GPS dog tracking collars. It is very unlikely that this T5 mini collar will lose the signal. The GLONASS helps you to locate the dog much quicker and has much better signal strength even in heavy cover.
GENERAL
Vibration/Tone: Yes
LED beacon lights: Yes
Rescue mode: Yes

Battery life: 16-30 hours - GPS mode/Standby mode
Range: up to 6km
Water rating: 1 ATM (10 meters)

Unit dimensions (WxHxD): 7.8 x 4.5 x 3.5 cm
Weight: 148g for transmitter and antenna (without collar trap); 200g total weight (with collar trap)
Battery type: rechargeable lithium-ion pack; user replaceable
Neck size: Minimum of 24 cm in circumference
Interface: USB

High-sensitivity GPS/GLONASS receiver: Yes
GPS antenna: top, black
Replaceable collar straps: Yes
Collar strap width: 2.5cm
Quick Tip - Rescue Mode
The Rescue Mode increases the amount of time before a collar battery dies. This allows more time to find and recover the dog. This mode can be activated automatically or manually. When it is manually activated, the collar's update rate will drop to every 2 minutes to ping the ALPHA handheld to extend the battery life. The Rescue Mode stays on until it is turned off. When the battery of the collar drops to 25%, it will be activated automatically.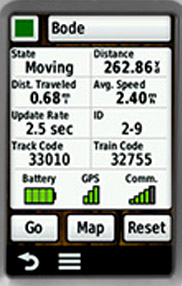 Collar operating hours in relation to the Ping Update Rate
25 hours with 5 second update rate
35 hours with 10 second update rate
40 hours with 30 second update rate
52 hours with 120 second update rate