Sidebar
Why your dog should always wear a collar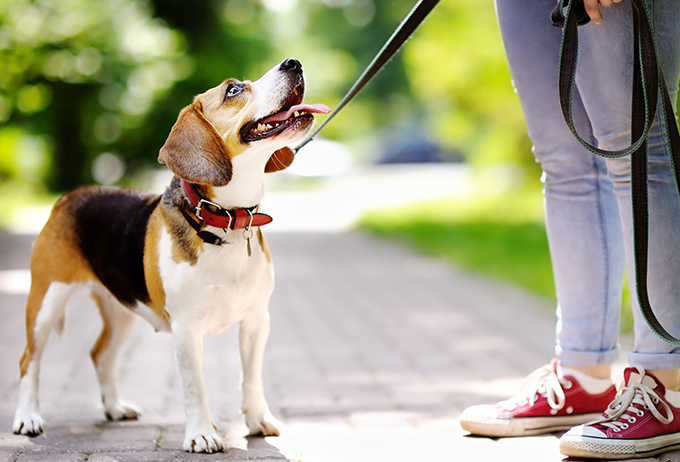 While it's generally recommended for dogs to wear collars, whether or not your dog should always wear a collar depends on various factors and individual circumstances. Here are some reasons why many people choose to have their dogs wear collars:
Identification
Collars are a convenient way to display identification tags with your dog's name, your contact information, and any important medical information. This can be crucial in case your dog gets lost.
Leash Attachment
Collars provide a secure attachment point for a leash, allowing you to safely walk and control your dog during outings.
Training and Control
Collars can be used as a training tool with commands like "heel" or "sit." They also offer a way to guide and control your dog's movements.
Quick Identification
In emergency situations, a collar can provide a quick and easy way for people to identify your dog as a pet and not a stray.
Visual Deterrent
Dogs that wear collars are often perceived as pets, which can deter some people from approaching them without your permission.
Medical Needs
Some dogs require specific collars for medical reasons, such as recovery from surgery or managing a medical condition.
Routine and Familiarity
Wearing a collar can become part of your dog's daily routine, making them more comfortable with the feeling and weight of it.
Attachment for Accessories
Collars can hold various accessories, such as decorative tags, bells, or even devices that emit a calming scent or repel pests.
However, there are also instances when it might be advisable to remove your dog's collar:
Safety at Home
For some dogs, especially those that are unsupervised or have a history of getting caught on objects, removing the collar while at home can reduce the risk of accidents.
Playtime with Other Dogs
Collars can get caught during rough play with other dogs, potentially causing injury. In these situations, it might be safer to remove the collar temporarily.
Uncomfortable or Injured Neck
If your dog has a neck injury or discomfort, wearing a collar might exacerbate the issue. Consult with your veterinarian for guidance.
Ultimately, the decision to have your dog wear a collar depends on your dog's individual needs, safety considerations, and your personal preferences. If you do choose to have your dog wear a collar, make sure it fits properly, is comfortable, and is regularly checked for wear and tear. If you have concerns or questions, consult your veterinarian for guidance.