Sidebar
Unlocking Potential: The Benefits of Dog Training with Garmin Delta SE Smart Dog Training Collar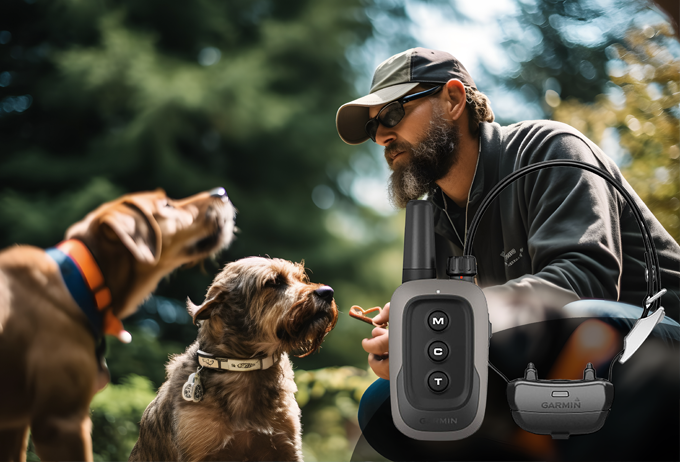 For centuries, dogs have been our loyal companions, offering us unwavering love, loyalty, and friendship. As responsible pet owners, it's our duty to ensure their safety and well-being, and one essential aspect of this is effective training. Garmin, a trusted name in the field of technology, brings us the Delta SE Smart Dog Training Collar, a game-changer in the world of dog training. In this blog, we'll explore the many benefits of using the Garmin Delta SE Smart Dog Training Collar to enhance your canine companion's behavior and overall quality of life.
Effective Communication
Communication is key in any successful relationship, and the same holds true for the bond between you and your dog. The Garmin Delta Smart Training Collar facilitates clear communication through its remote control. With a range of up to 100 yards, you can issue commands and corrections with precision, allowing your dog to understand and respond promptly. This enhanced communication is especially beneficial for teaching commands, addressing behavioral issues, and reinforcing positive behaviors.
Customized Training Programs
Not all dogs are the same, and their training needs can vary widely. The Garmin Delta Smart Collar offers customizable training programs, ensuring that your dog receives tailored instruction based on their specific behavior and temperament. Whether your dog needs basic obedience training or advanced behavior modification, this collar can be programmed to suit their unique requirements.
Positive Reinforcement
Positive reinforcement is a proven and humane training method that encourages dogs to exhibit desired behaviors by rewarding them with treats, praise, or affection. The Garmin Delta Smart Collar enables you to reinforce good behavior through the use of tone, vibration, and stimulation options. You can choose the level and type of feedback that works best for your dog, making training a positive and enjoyable experience.
Behavioral Correction
Addressing unwanted behaviors is a crucial aspect of dog training. The Garmin Delta Smart Collar features corrective options, including vibration and static stimulation, which are safe and effective means of discouraging undesirable behavior. These correction settings are adjustable, allowing you to find the appropriate level for your dog's sensitivity, ensuring a humane approach to behavior modification.
Safety and Tracking
Garmin has integrated its renowned GPS technology into the Delta Smart Collar, enhancing the safety of your canine companion. You can track your dog's real-time location through your smartphone, which is invaluable for preventing lost or runaway dogs. This feature is particularly beneficial for off-leash training, as you can confidently give your dog more freedom while maintaining their safety.
Companion Mobile App
The Garmin Canine™ app complements the Delta Smart Collar, offering a user-friendly interface for training and tracking your dog's progress. This app allows you to review training data, set training goals, and even share your dog's achievements with friends and family. It provides valuable insights into your dog's behavior, making it easier to monitor and improve their training regimen.
Versatility
The Garmin Delta Smart Collar is designed to accommodate various dog sizes and temperaments. With interchangeable contact points and a wide range of strap lengths, it can be customized to fit comfortably on any dog, from small breeds to large ones. Its adaptability makes it an excellent choice for multi-dog households or professional trainers working with diverse canine clients.
Remote Control Convenience
The handheld remote control included with the Garmin Delta Smart Collar is ergonomically designed for ease of use. Its intuitive interface allows you to switch between training modes, adjust stimulation levels, and issue commands quickly and effortlessly. This remote control is an invaluable tool in achieving effective training results.
Long Battery Life
The Garmin Delta Smart Collar and its remote control boast impressive battery life, ensuring uninterrupted training sessions and tracking capabilities. This longevity is especially beneficial for those engaging in extended training sessions or outdoor adventures with their dogs.
Proven Success
One of the most compelling benefits of using the Garmin Delta Smart Collar is its track record of success. Countless dog owners and professional trainers have reported significant improvements in their dogs' behavior and responsiveness after using this training tool. It has earned its place as a trusted and effective training solution in the canine community.
The Garmin Delta Smart Dog Training Collar is a revolutionary tool that can transform your dog training experience. Its effective communication, customization options, positive reinforcement techniques, and safety features make it a game-changer for pet owners and professional trainers alike. With this advanced technology at your disposal, you can enhance your dog's behavior, ensure their safety, and strengthen the bond between you and your loyal canine companion.
Contact our friendly team for any questions on 1800 300 364. Find more educational information in our Blog and Resource Center.