Sidebar
How Often Should You Take Your Dog to the Vet? A Comprehensive Guide to Canine Health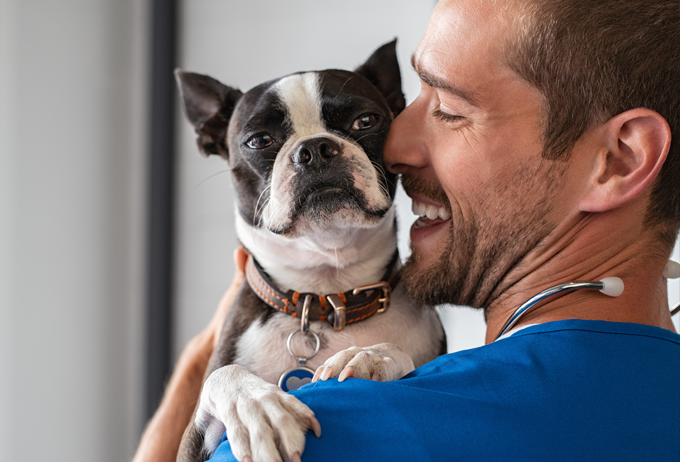 As a dedicated and responsible dog owner, ensuring the health and well-being of your furry companion is a top priority. One of the fundamental aspects of pet care is regular veterinary visits. In this comprehensive guide, we'll delve deeper into the importance of scheduling veterinary check-ups for your dog and provide insights into various aspects of canine healthcare.
Annual Wellness Exams: The Foundation of Preventive Care
Your dog's journey to a long and healthy life begins with annual wellness exams. These routine check-ups serve as the cornerstone of preventive care. During these visits, your veterinarian will conduct a thorough physical examination, update vaccinations as needed, and engage in a dialogue with you about your dog's lifestyle and any concerns you may have.
These annual check-ups offer several crucial benefits. Firstly, they allow your veterinarian to detect potential health issues in their early stages, often before they become more serious and costly to treat. Secondly, your vet can provide guidance on nutrition, exercise, and other aspects of your dog's daily life to ensure they thrive. It's also an excellent opportunity for you to ask questions and seek advice on any specific concerns you may have about your dog's behaviour ior or well-being.
Vaccinations: Protecting Your Dog Against Infectious Diseases
Vaccinations are a vital component of your dog's preventive healthcare plan. Puppies require a series of vaccinations in their first few months of life to build immunity against common infectious diseases. These early vaccinations lay the foundation for a healthy adulthood.
Adult dogs, too, need regular booster shots to maintain their immunity. Your veterinarian will establish a vaccination schedule tailored to your dog's unique needs and risks. Staying up to date on vaccinations not only protects your dog but also contributes to the overall health of the canine community by reducing the spread of diseases.
If you're uncertain about your dog's vaccination status or have questions about specific vaccines, don't hesitate to discuss these matters with your vet during your annual wellness exam.
Illness or Injury: When Prompt Veterinary Care Is Crucial
While preventive care is essential, there are times when unexpected health issues arise. Being vigilant about your dog's well-being and recognizing the signs of illness or injury is paramount. Common symptoms that should prompt an immediate visit to the veterinarian include:
- Lethargy
- Loss of appetite
- Vomiting
- Diarrhea
- Coughing
- Difficulty breathing
- Limping or signs of pain
- Excessive thirst or urination
- Abnormal behavior
- Any other concerning changes in your dog's health
Your dog cannot communicate their discomfort verbally, so it's your responsibility as their guardian to pay close attention to these signs and seek professional care promptly. Early intervention can make a significant difference in the outcome of many health issues.
Routine Dental Care: A Key to Long-Term Health
Dental health often takes a backseat in discussions about pet care, but it's a critical aspect of your dog's overall well-being. Dental issues, such as gum disease, tooth decay, and infections, can not only cause pain and discomfort but also contribute to more severe health problems when left untreated.
Regular dental check-ups and cleanings are essential to prevent these issues. During these appointments, your veterinarian can assess your dog's dental health and recommend appropriate care, which may include professional cleanings or home dental care routines.
Neglecting dental health can have serious consequences, affecting not only your dog's teeth and gums but also their organs, as dental infections can lead to systemic health problems. Make dental care a priority to ensure your dog's long-term health and comfort.
Parasite Prevention: Shielding Your Dog from Hidden Threats
Fleas, ticks, heartworms, and other parasites can pose significant health risks to your dog. Fortunately, your veterinarian can help you develop a robust parasite prevention plan. Regular check-ups allow your vet to monitor your dog's parasite status and adjust the prevention strategy as needed.
Parasites can lead to a range of health problems, from skin irritations and allergic reactions to more severe conditions, such as heartworm disease. By staying proactive and adhering to your vet's recommendations for preventive treatments, you can safeguard your dog against these hidden threats.
Changes in Behavior or Appetite: A Window into Your Dog's Health
Dogs communicate their feelings and well-being through behavior and appetite. Sudden or significant changes in these areas should not be overlooked. If you notice any of the following, it's advisable to consult with your veterinarian:
- Increased aggression
- Anxiety or unusual mood swings
- Sudden changes in appetite
- Weight loss or gain
- Excessive thirst
- Changes in bathroom habits
- Altered sleep patterns
These changes may indicate underlying health issues that require professional attention. Your vet can conduct tests and examinations to pinpoint the cause of these changes and recommend appropriate treatment or interventions.
Pre-Existing Conditions: Ongoing Monitoring and Care
If your dog has pre-existing health conditions or is on long-term medications, regular vet visits are a necessity. These visits serve multiple purposes:
- Monitoring the progression of the condition
- Adjusting medications as needed
- Addressing any concerns or complications that may arise
- Providing guidance on managing the condition at home
Whether your dog has diabetes, arthritis, allergies, or any other chronic condition, proactive veterinary care is essential to maintain their quality of life and ensure they receive the necessary support.
Tailoring Veterinary Care to Your Dog's Unique Needs
It's important to note that the guidelines mentioned above are general recommendations. Every dog is unique, and their healthcare needs can vary based on factors such as breed, age, lifestyle, and underlying health conditions. Your veterinarian is your best resource for tailoring a healthcare plan specific to your dog's requirements.
Regular communication with your vet is essential. Don't hesitate to reach out whenever you have questions or concerns about your dog's health. Whether you're seeking advice on nutrition, behavioral issues, or preventive care, your veterinarian is your trusted partner in keeping your canine companion happy and healthy.
In conclusion, responsible dog ownership includes regular veterinary care as a fundamental component. By scheduling annual wellness exams, staying up to date on vaccinations, promptly addressing illness or injury, prioritizing dental health, implementing parasite prevention, recognizing changes in behavior or appetite, and monitoring pre-existing conditions, you are ensuring the best possible life for your four-legged friend. Remember that the partnership between you and your veterinarian is a crucial aspect of your dog's well-being. Together, you can provide the care and attention your dog deserves throughout their lifetime.
Check our Resource Centre and Blog for more educational information.