Sidebar
How Dog Anxiety Vests Work and When You Should Use It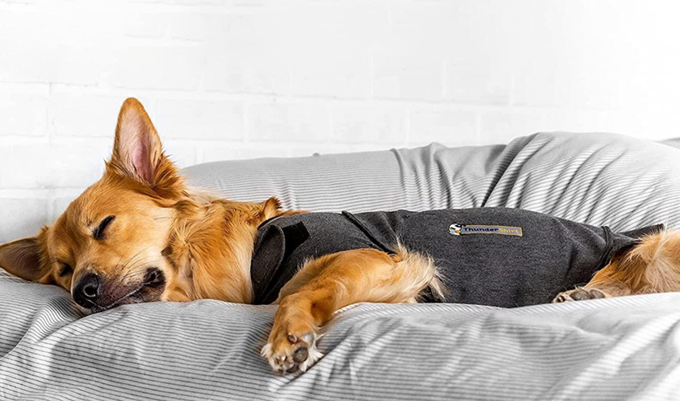 Dogs, like humans, can suffer from anxiety and stress-related issues. While there are various methods to address these concerns, one innovative solution gaining popularity is the use of dog anxiety vests, also known as anxiety wraps or pressure vests. These vests work based on the simple yet effective principle of applying gentle, constant pressure to a dog's torso, mimicking the sensation of being swaddled. Here's a closer look at how these anxiety vests work and when they can be incredibly beneficial for your canine companion.
How Dog Anxiety Vests Work
Pressure Application
The design of anxiety vests typically involves straps or panels that wrap snugly around your dog's body, exerting gentle, consistent pressure. This pressure has a calming effect, triggering the release of endorphins in the dog's system. Endorphins are natural chemicals in the body that promote a sense of well-being and calmness.
Nervous System Regulation
The pressure from the vest acts as a regulator for your dog's nervous system. By providing a constant, soothing sensation, the vest can effectively reduce anxiety, fear, or stress. It works wonders for various anxiety-related issues such as noise phobias, separation anxiety, fear of travel, and general anxiety.
Behavioural Distraction
Some anxiety vests come with additional features like snug fits, extra padding, or pockets designed to hold heat or cold packs. These features provide additional sensory distractions, further aiding in relaxation. They create a cocoon-like environment that helps your dog feel secure and protected.
When to Use a Dog Anxiety Vest
During Thunderstorms or Fireworks
Many dogs become highly anxious during thunderstorms or fireworks displays. The loud noises can be distressing, and an anxiety vest can provide the necessary comfort and reassurance to help them cope.
During Travel
If your dog gets anxious during car rides or other forms of travel, an anxiety vest can work wonders. It gives them a sense of security, making the journey less stressful for both you and your furry companion.
During Separation Anxiety
Dogs experiencing separation anxiety often exhibit signs of distress when left alone. Wearing an anxiety vest can provide the much-needed security, helping them feel calmer and more at ease in your absence.
Visits to the Vet
For many dogs, a trip to the veterinarian can be an anxiety-inducing experience. An anxiety vest can help in calming them down, making the visit less stressful and more manageable.
In New or Unfamiliar Environments
Moving to a new home or introducing your dog to a new environment can be overwhelming. Anxiety vests offer a familiar, secure feeling, easing the transition and providing comfort during the adjustment period.
During Training or Behavioural Therapy
Anxiety vests can also be used in conjunction with training or behavioral therapy sessions. The calming effect helps anxious dogs focus better, making the training sessions more effective and productive.
While anxiety vests are a valuable tool in managing canine anxiety, they are not a one-size-fits-all solution. It's crucial to consult with a veterinarian or a professional dog trainer to develop a comprehensive approach tailored to your dog's specific needs. This approach may involve a combination of behavioral training, environmental changes, and, if necessary, the use of anxiety vests. Always prioritize your dog's well-being and consult with experts before implementing any new techniques or products to address their anxiety. Your furry friend deserves a happy, stress-free life, and with the right strategies, you can help them achieve just that.
Check our Resource centre and Blog for more educational information.