Sidebar
How does an invisible dog fence work?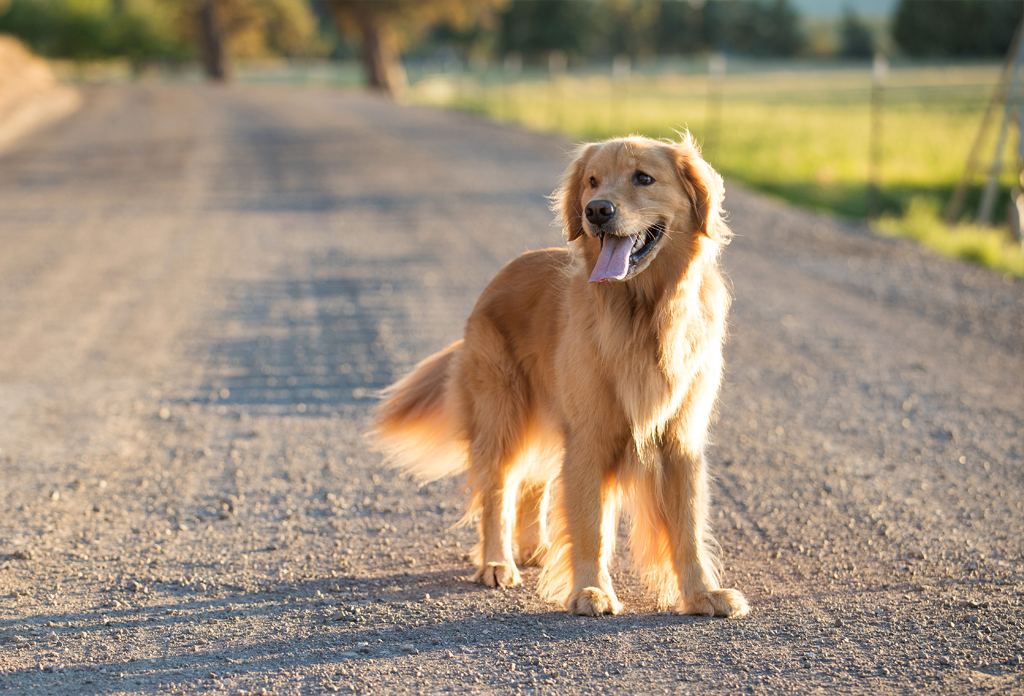 Fences also open up the possibility of dogs jumping over or digging under them to escape, which is eliminated with invisible fences. Alternatively, invisible fences can be used in conjunction with existing fences.
DogMaster Trainers sells a range of containment systems, with systems to suit just about all dog breeds and temperaments.
The question is, how does invisible fencing work?
Each system has a wall-mounted transmitter box that emits a radio field, travelling along a loop of the copper-insulated boundary wire. The dog wears a lightweight receiver on their collar strap that detects the radio signal transmitted from the boundary wire. Once the receiver crosses the radio field, they will receive a mild static correction. Often, the receiver will also alert them with a warning beep or vibration as they approach the boundary.
The static acts as a harmless but effective deterrent, and the sensation is similar to when you touch your car door on a dry and windy day and get a small zap. It's recommended you spend around 15 minutes a day for approximately 14 days when training your dog, training the association of the need for your dog to retreat back into the yard.
The width of the field can be adjusted from the boundary wire up to 3m in radius, which can help deter active or stubborn dogs. They can also be reduced to as little as half a metre if used to reinforce existing fencing or where space is limited.
Containment fences work by reinforcing the yard as a positive area and leaving the yard as negative. You can contain as many dogs as you want on all of our wired loop systems so long as each dog wears a receiver. Boundary wires are usually buried underground, approximately one to two inches deep, or attached to an existing fence. There are endless ways of installing a radio fence system, and these are just two examples.
Radio fence systems can easily cross driveways and walkways, plus you can create 'safe zones' for metre readers and mail carriers. Another bonus is that twisting the boundary wire cancels the radio field, so you can create boundaries within boundaries, such as around a garden bed within the yard.
If you need help with installation, please look at our guide to setting up containment fences.
Invisible dog fencing is a must for keeping your dog safe. Keep reading below to find out more about the pros and cons of invisible fencing, how to train your dog to use them and how to maintain your fence.
The pros and cons of an invisible dog fence
The phrase 'containment system' may sound menacing, but systems such as invisible dog fencing work to keep dogs safe while still letting them roam around the home.
Here are some key advantages of using invisible fencing, as well as some considerations to keep in mind.
The advantages of using an invisible dog fence
As mentioned, invisible fences are easy to set up and may be more cost-effective than a traditional dog-proof fence. This ease of use also means an electric dog fence can be set up to work with existing fences. If you have a gate or garden wall that can be burrowed under, you can set up an invisible fence to act as an additional deterrent for your dog. Doing so means you won't have to uproot any existing garden fixtures, which may be costly and time-consuming.
An invisible dog-proof fence also keeps your home looking neat. Landscaping is a key priority for some homeowners, making it difficult to search for the right dog fence. Invisible fencing bypasses this issue entirely so you can protect your dog without compromising the overall appearance of your property.
Because invisible dog fencing relies on collars and transmitters, these can be brought along during a move. The wireless collars and transmitters will continue to work even in your new home, and all you need to do is contact us so we can help with setting up wires and boundaries in your new garden.
Another key advantage to using electric dog fencing is that it decreases the possibility of human error. Forgetting to lock pet gates is a common mistake, especially when you're in a hurry. An electric fence provides additional protection for when you're running a quick errand.
The potential drawbacks of invisible dog fencing
It is unreasonable to expect your dog to adjust automatically to their electric collar. Electric collars only send slight shocks, but these can still be confusing for your dog. As such, you need to factor in the time it takes to train your dog before you invest in an invisible dog fence. Improper training, or total lack thereof, can increase the chances of your dog becoming stressed and aggressive.
Dogs are naturally social creatures, so your dog may grow frustrated seeing your neighbour's pets freely playing in their own yards. This is an important consideration to keep in mind as over half of Australian households own a pet, with dogs as the most common kind. It is your responsibility to keep track of any behavioural changes in your dog as it gets used to its invisible fence.
You should also remember that using an invisible fence to keep your dog out of the garden does exactly that — nothing else. Your dog is contained, but these fences will not deter outsiders from entering your home. If you are worried about intruders, investing in other security systems alongside your electric fence is best.
Lastly, invisible fencing is prone to power outages and other electrical issues, such as frayed wiring. Situations like these make it all the more important to invest in training your dog during the initial stages of setting up your electric dog fence. If you've trained your dog well, power outages should not pose too much of a threat. Electricity interruptions are inconvenient, but your dog should be able to remember its training.
Choosing and maintaining your invisible dog fence
There are three key aspects you should keep in mind when looking for an invisible fence to keep your dog out of the garden. These are:
Wire gauging
Wire grade (factory versus professional grade)
Wire resistance
Thicker wire gauges can make your system last longer, while your wire grade determines overall functionality. Higher wire resistance means your system will be less susceptible to stress cracks and better withstand harsh weather conditions.
These factors form the basis of how invisible fencing works for dogs and should be considered alongside your dog's overall temperament. If your dog is more active and highly excitable, you may need to invest in more powerful invisible dog fencing.
You should make sure that your dog isn't wearing its electric collar for more than 12 hours. Aside from decreasing the overall battery life of the collar, leaving it on for too long can cause health problems for your dog in the long run.
Make sure to regularly check for any wire breaks, as just one faulty wire can compromise the entire electric fence. You can reach out to us if you need help with fixing broken fencing wires.
Learn more about how invisible fencing works with DogMaster Trainers
If you're looking for a way to keep your pet safe without making any huge changes to your property, invisible dog fencing is an investment you should consider.
According to the RSPCA Australia, pet owners spent a collective total of $33 billion on pet products in 2022. This number shows how much of a priority pet care is for many. Using professional-grade dog training products ensures your dog can roam around your home safely.
DogMaster Trainers has been in operation since 2001, focusing on creating dog collars that have been tested and approved by trainers. With our range of dog collars and containment fences, you can customise a security system that works best for you and your dog.
We stand by our products and test each one to ensure they are safe for all dogs to use, even in the long run.
If you have any other questions about how invisible fencing works, get in touch with us by calling 1800 300 364 or emailing orders@dogmaster.com.au.