Sidebar
DOGTRA IQ MINI: A GAME-CHANGING TRAINING COLLAR FOR YOUR SMALL CANINE COMPANION​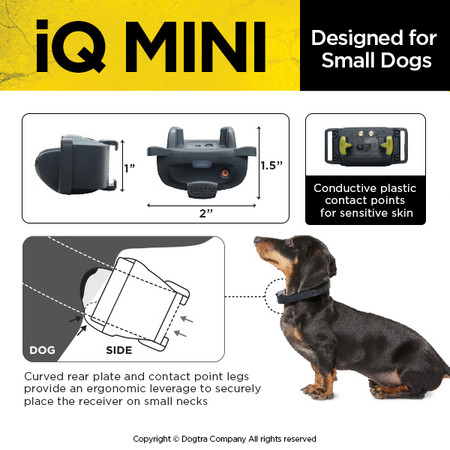 Kudos to Dogtra Company for taking a leap in designing a remote training collar tailored specifically for small dogs! Enter the Dogtra iQ MINI, a revolutionary product that small dog owners have long been waiting for. Boasting a feather-light 1.3-ounce receiver, this collar strikes the perfect balance between lightweight design and functionality, granting us, the proud owners of smaller furry companions, the ability to offer them the same freedom we grant to our larger canine friends.
THE QUESTION OF TRAINING SMALL DOGS
Small dogs, unfortunately, are often overlooked when it comes to training equipment. They're commonly perceived as indoor pets, often carried in purses or strolled around. However, it's crucial to realize that these petite pals have the same needs as any other dog. They deserve to have all four paws on the ground, to explore, to sniff, and yes, even to get a little dirty. In essence, they deserve to experience life as a dog.
Recently, I attended a raw and natural dog wellness symposium where numerous presenters emphasized that dogs thrive when they have the opportunity for unrestricted, natural exercise. The importance of allowing dogs to roam freely and connect with the earth for their overall wellness was underscored. In fact, consuming a small amount of dirt was even suggested to be beneficial for balancing a dog's diet, assuming the dirt is free of potential toxins. Considering that our domesticated dogs descended from ancestral predators that roamed freely while hunting and scavenging, the idea of ingesting earth's microbes as part of their natural gut flora isn't far-fetched.
Regardless of whether you buy into the dirt consumption theory, allowing a dog to truly be a dog undeniably contributes to their physical and mental well-being. Sadly, this natural experience has become increasingly rare for many modern dogs, especially the toy breeds. They're often treated like human infants, groomed, dressed, and transported in a way that prevents their paws from touching the ground.
Let me clarify, I'm not against picking up a small dog to keep them safe in potentially risky situations, and I'm fine with indulging our whims by dressing a dog if they're comfortable with it. However, our personal indulgences should always be balanced with the needs of the dog, respecting them for the animals they are. Enabling dogs to express some natural predatory behavior through activities like sniffing, scratching, running, and chasing is fulfilling and offsets the stress of living an urbanized lifestyle.
WHY THE DOGTRA IQ MINI IS IDEAL FOR TRAINING SMALL DOGS
A significant barrier to allowing small dogs the freedom to run lies in our confidence (or lack thereof) in ensuring their safety while off-leash. Concerns about a dog running off or getting into a dangerous situation when off-leash are common among dog lovers, regardless of their dog's size. Using a remote collar can provide the control needed while allowing your pup to enjoy the great outdoors.
This is precisely where the iQ MINI steps in to fill a crucial gap. Although it is marketed to fit dogs as small as 7 pounds, I would have no qualms about using it on a dog weighing less, as long as the neck circumference allows for comfortable contact and wearability.
Personally, I was fortunate to be involved in the development of the iQ MINI. My motivation was a bit selfish; I sought a collar that would fit a dog with a slim neck after adopting a small terrier mix from a local shelter. My 15-pound companion has a neck circumference of just under 9 inches. While the Dogtra iQ PLUS could fit him, it looked somewhat bulky. The new iQ MINI retains the features of the iQ PLUS but in a slimmer profile, which was exactly what I needed. The added bonus is its weight, coming in at a mere 1.3 ounces, almost half the weight of the previous receiver. Furthermore, the iQ MINI features built-in plastic conductive contact points, providing a more contoured fit for smaller necks and reducing the risk of skin irritation from contact dermatitis.
WHAT TO KNOW BEFORE CHOOSING AN E-COLLAR FOR YOUR SMALL DOG
Remote collars are proven effective tools for dog training, and the Dogtra IQ Mini stands out as a top choice for small breeds. However, before investing in this device, it's essential to understand some key aspects to ensure it's the perfect fit for your furry companion.
Built-in Contact Points: One caution to keep in mind is that the contact points on the iQ MINI are built-in, unlike other Dogtra receivers where you can adjust the contact point length. If your petite pooch has a particularly long or thick coat, this receiver style may not make optimal contact with the skin unless you're open to thinning the coat on the neck.
Battery Life: Downsizing the receiver also means downsizing the batteries. With routine use, expect to charge your unit every two days, similar to how you might charge a smartphone. However, the unit features a two-hour rapid recharge feature, ensuring a swift return to action!
IN CLOSING
Witnessing this development towards building receivers that cater to small dogs fills me with immense joy. My spirited little companion is equally elated every time I reach for his iQ MINI. When I grab his collar, he knows we're heading to the trails for another exciting adventure in the great outdoors!
Happy Training!
Learn more from our Resource Centre or from our Educational Blogs.