Sidebar
Garmin Alpha 100/T5 Mini GPS Dog Tracking System
Features:
* Mini collar to suit dogs from 7kg * Pre Loaded with AU/NZ TOPO Lite Maps * Tracks up to 20 dogs (with T5 mini Collars) or other Alpha 100 from up to 7km away * Long range antennas for Alpha 100 handheld and T5 collar are available * Track and message other paired Alpha 100 devices * Compatible with BirdsEye Satellite Imagery (True Satellite View of surrounding) * Remote Operated Beacon Light on T5 mini Collar * 3 inch high resolution touch screen for easy operation *
Fully waterproof Handheld IPX 7 and Dog Device/Collar 1 ATM
* Rechargeable system with user replaceable battery * 1 year warranty
Download Garmin Alpha 100/T5 mini Manual From here.
Important !
Please
perform software and firmware update
for Garmin products before use.
Brand

SKU:

93-GAA-076

UPC:

753759131623
Garmin Alpha 100 Handheld Features:
* Measures dogs' speed and distance travelled
* Dog Trails - Choose from three views: Complete History, Partial History, or no Trail History
* Map Screen option: Show / Hide Dog's Status, Distance, Names, and Off screen Dogs
* Wireless sharing of Dog info to other ALPHA handheld units
* 4GB internal memory
* Expandable external memory by micro SD card
* Comes with Australian and New Zealand Topo Lite Map
* Waterproof
* Rechargeable with user replaceable battery
* Trip Computer
Garmin T5 mini Collar Features:
* Waterproof
* rechargeable with fast charge
* Remote operated beacon light
* Rescue mode to save battery
* Suits smaller hunting dogs from 7kg
The Legal Garmin Alpha 100 GPS dog tracking system is finally here. With the latest Garmin technology, this system helps you achieve optimum performance from working dogs and small hunting dogs. This easy-to-use integrated handheld system helps tracking up to 20 dogs or other Garmin Alpha 100 handheld devices in the field at a range of up to 7km away and delivering their exact position as often as every 2.5 seconds.
Track Dogs and other Hunters
Using the Alpha 100, you can up to 20 Garmin T5 mini collars or other Alpha 100 handheld devices. When tracking dogs with the T5 mini collar, the Alpha 100 handheld shows each dog's speed, distance and the direction being travelled. Furthermore, the Garmin Alpha 100 will notify dog status when it is "Treed" "Running" "Sitting" or "On Point." The T5 collar has "T" tone, "V" vibration and "L" training option, the beacon light is extremely good feature in low light condition. When tracking with other hunters by Alpha 100 handheld, you can actually see contacts' location, send an emergency alert and message.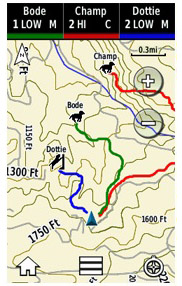 Geofence
You can setup a invisible boundary around an area or a radius around the current location. A location alerts notify you when your dogs or other hunters enter or exit a particular location. The virtual boundaries of the geofence are accurate up to approximately 3 metres. Geofences perform best when sized to cover an area encompassing an average sized backyard (approximately 1/4 acre).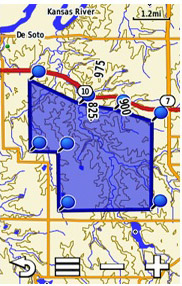 Extend Battery Life
When tracking with the T5 collar, hunters can switch to Rescue Mode to extend the battery life. When the T5 collarreaches a certain battery level, it will slow down the update rate at which it pings the Alpha 100 from every 2.5 seconds to every 2 minutes. This gives you more time to search for and locate your dog.