Sidebar
How do lick mats work and why every dogs should have one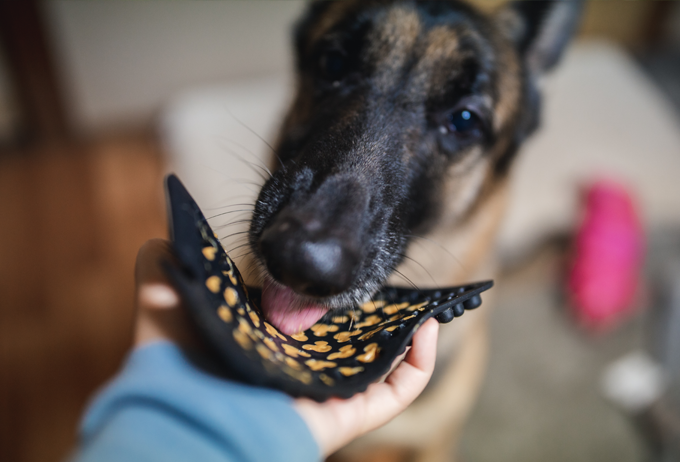 Lick mats are simple yet effective devices that provide mental stimulation and enrichment for dogs. They are typically made of silicone or rubber and have textured surfaces with grooves or patterns. The purpose of a lick mat is to encourage dogs to engage in licking behaviors, which can have several benefits for their overall well-being. Here's how lick mats work and why they can be beneficial for dogs
How Lick Mats Work
Texture and Patterns. Lick mats have textured surfaces with patterns or grooves that allow you to spread various substances like wet dog food, peanut butter, yogurt, or other dog-friendly spreads. The patterns help hold the substance, making it accessible for the dog to lick.
Licking Behavior. Dogs are naturally inclined to engage in licking behaviors. Licking can be soothing and comforting for dogs, similar to how humans find comfort in certain repetitive actions. Lick mats provide a structured and safe way for dogs to engage in this behavior.
Mental Stimulation. The act of licking the substance from the grooves of the lick mat engages a dog's senses and mind. It requires them to use their tongue to access the food, providing mental stimulation and a way to pass the time.
Calming Effect. Licking has a calming effect on many dogs. It can reduce stress, anxiety, and boredom, making lick mats particularly useful for anxious or high-energy dogs. The repetitive licking motion can release endorphins, which promote relaxation.
Distraction and Focus. Lick mats can be used to distract dogs during potentially stressful or anxiety-inducing situations, such as vet visits, grooming, or when guests are visiting. The act of licking can help shift their focus away from their anxiety or discomfort.
Why Every Dog Should Have a Lick Mat
Mental Enrichment. Lick mats provide mental stimulation, preventing boredom and promoting mental health. This is especially important for dogs that may not have enough mental challenges in their daily routine.
Slow Feeding. Lick mats can slow down a dog's eating pace, which can be beneficial for dogs prone to eating too quickly. It helps prevent issues like bloating, vomiting, or other digestive problems associated with fast eating.
Anxiety Reduction. The calming effect of licking can help dogs manage anxiety and stress. This is beneficial for dogs with separation anxiety, fear of loud noises, or general anxiety.
Aids in Training. Lick mats can be used as a training tool to encourage positive behaviors and reward-based training. You can place a favourite spread on the mat as a reward for desired behaviour.
Sensory Stimulation. The different textures of the lick mat provide sensory stimulation for a dog's tongue and can also help soothe sore gums and teeth, especially in puppies or senior dogs.
It's important to monitor your dog while using a lick mat to ensure they are using it safely and not attempting to chew or ingest the mat itself. Always choose appropriate and dog-safe substances to spread on the lick mat. As with any enrichment tool, moderation and supervision are key to ensuring your dog benefits from it in a safe and positive manner.
Learn more from our educational Blogs, or visit our Resource Centre for more technical information.