GARMIN Alpha GPS Dog Tracking Bundle (2 x T5 Collars - Armoured)
GARMIN Alpha GPS Dog Tracking Bundle (2 x T5 Collars - Armoured)
or 4 x fortnightly payments of
and receive your order now.
More info
This product is available for pre-order only
Product Description
DogMaster Armored Garmin Tracking collars have the following included:
Comes with Exclusive DogMaster Stainless Armour Kit with removable stainless steel clip - installed.

DogMasters Industrial wrap - installed
CPH - Exclusive DogMaster Trainers Comms Protective Hardware to protect against comms loss around the wire - installed.
Features
Pre Loaded

with NZ/AU TOPO Lite

Maps

Genuine Garmin Product. We are Garmin Agents.
Comes with Exclusive DogMaster Stainless Armour Kit with removable stainless steel clip

DogMasters Industrial wrap installed
CPH - Exclusive DogMaster Trainers Comms Protective Hardware to protect against comms loss around the wire - installed.
Package includes 1 x Alpha 100 Receiver and 2 x Garmin T5 Collars with our stainless steel armour protection.

Tracks up to 20 dogs (T5 Collars) or buddies from up to 9km away
Track your mates* know where they are for added safety
*Track & message other paired Alpha 100 devices from up to 9km away
BirdsEye Satellite Imagery – Sorry not available in NZ – (Note other retailers may try & sell this to you as a feature).
Remote Operated Beacon Light on T5 Collar
3 inches high resolution touch screen for easy operation
GeoFence/Invisible Dog Fence
Fully waterproof system
Rechargeable system with user replaceable battery
FULL Garmin Warranty
Finance Now – Easy finance option available.
Garmin Alpha 100 Handheld Features:
Measures dogs' speed and distance travelled & snail trails
Dog Trails: Choose from three views: Complete History, Partial History, or no Trail History
Map Screen option: Show / Hide Dog Status, Distance, Names, and Offscreen Dogs
Zoom to MAP DOGS – automatically have all dogs appear on our map screen — no matter how far they are from you
Wireless sharing of Dog info to other ALPHA handheld units
8GB internal memory
Expandable external memory by micro SD card
Comes with Australia & New Zealand Topo Maps preloaded
Waterproof
Rechargeable with user replaceable battery
Trip Computer
Garmin T5 Collar Features:
Waterproof
Rechargeable with fast charge
Remote operated beacon light
Rescue mode to save battery

Pig Hunting kit with Stainless Armour Case & Industrial shrink for antenna protection
The NEW Garmin Alpha 100 GPS dog tracking system is fully Legal to use in New Zealand. With the latest Garmin technology, this system helps you achieve optimum performance from your working and hunting. It combines proven Garmin GPS dog tracking technology.This easy-to-use integrated handheld system helps tracking up to 20 dogs or other Garmin Alpha 100 remote devices in the field at a range of up to 9km away delivering their exact position as often as every 2.5 seconds.
Get Exclusive DogMaster Trainers Pig Hunting kit!
To ensure your dogs collar does not get damaged during hunting, DogMaster Trainers have gone that little further by manufacturing our exclusive solid stainless steel armour protective covers.Heavy duty dual wall Industrial Heat shrink is added to the antennas & GPS receiver to protect your gear and help stop your aerials from being continuously snapped or your GPS receiver being damaged.We care about your gear you should too!
Extend Battery Life with Rescue mode
When using the Garmin T5, switch to Rescue Mode to extend the battery life. When the collar reaches approximately 25 percent battery life, it will automatically slow down the update rate to extend your battery life.
The pings to the Alpha 100 extend out from every 2.5 seconds to every 2 minutes. This substantially reduce the drain of battery and gives you more time to search for and locate your dog.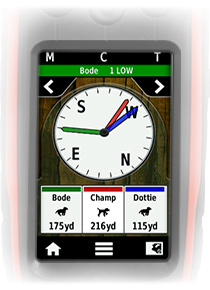 Track Your Dogs & Your Mates
Using the Alpha 100, you can measure each dog's speed, distance and the direction being traveled. Plus, you can receive notifications when a dog is "Treed" or "On Point."
A single Alpha 100 can track up to 20 dogs. In addition your can track your fellow hunters if they too are using their Alpha 100 handhelds. Great safety feature!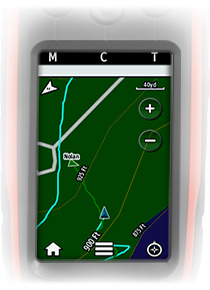 ASTRO VS ALPHA
Alpha can track 20 dogs (Alpha 10)
Alpha can track hunting buddies (using Alpha handsets)
Alpha has a 3″ glove friendly touchscrees, Astro is 2.6″ screen & buttons
Alpha will be preloaded with NZ & AU TOPO Maps
Alpha has a rechargeable Li-Ion battery (spares can be carried)
Alpha has 8 GB built in memory (Astro 1.7GB)
NZ Alpha 100/T5 bundle & T5 collars come with a full Garmin Warranty
NZ Alpha is fully Legal to use in NZ (With Astro you run the risk)
Keep Up with Your Buddies
Know where other hunters in your group are. Set your Alpha to show not only the dogs in your group, but also the other Alpha handhelds too.
WHY BUY your GARMIN GPS from DOGMASTER TRAINERS?
Over 11+ years experience with modifying hunting & Tracking systems
We are more than just a retailer. Add specialist & extensive knowledge
Service department in Hamilton New Zealand other retailers don't offer this

FREE Calling 0800 number (0800 DOGMASTER /0800 364 627)

Great sales and after sales care.
Dogmaster has had 11+ years experience modifying hunting dog tracking systems to suit pig hunters. No Covers or Plastic protection just doesn't cut the mustard!
We know what it takes to ensure your gear will hold up to our New Zealand hunting conditions. If your going to spend good money make sure you protect your investment.
Why use metal?
To protect the electronic components inside the collars.
To shield the circuit board from external radio signals. Stainless steel protectors will withstand tusks and bites. In addition Dogmaster adds additional dual wall industrial heat-shrink to the GPS receiver & transmitting antenna's to protect these from being ripped out or snapped.
Need more info give our friendly staff a call on our free calling 0800 364 627 (0800 DogMaster)